Find information on a wide range of button-related subjects
---
BUTTON STUDY SHEETS
These printable study sheets can help you review or learn more about your buttons.
COMPETITION WORKSHEETS
Use these worksheets from Sallie Gibson, Polkbox Button Club to help organize your buttons

MATERIALS WORKSHEET – SYNTHETIC POLYMERS
Use this worksheet from Maxine Richmond, Cleveland Button Society to help organize your buttons
BUTTON: A SELECTED BIBLIOGRAPHY
Check out this Bibliography Of Button Books From The Ohio State University
OHIO'S BUTTON DICTIONARY
Contains pictures and descriptions of all sorts of buttons and button terms.
From the Ohio 2010 Spring Bulletin
LOIS POOL'S BUTTON COLLECTION
Is golf your sport? Check out Lois Pool's Golf Club Button Collection.
OTTAWA VALLEY BUTTON CLUB
Interesting articles from our neighbors in Canada

BUTTON COLLECTING GOES TO WIKIPEDIA
We are in a big time now!!
BUTTON CLASSIFICATION
Trouble understanding National's classification system?
Paul Rice has a great page featuring buttons organized by the NBS Classification System
BUTTON PATENTS
For the history buffs, this site provides more than 150 examples of early button and clothing fastener patents.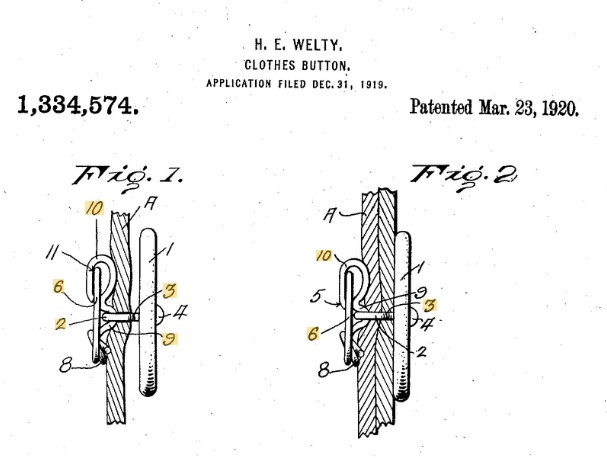 THE CHINA EXCHANGE
The place to exchange information and ideas about China Buttons.
A PRIMER ON RIVET BUTTON COLLECTING
By David E. Race